This section was created  on the initiative of one of my clients, Shatika, as a place to share ideas, provide feedback, express opinions and make suggestions…I guess I could have just said "to provide feedback…"
It could also serve as an informative tool, by presenting actual client "reviews" of their experiences. All the testimonials here have been submitted voluntarily, have not been edited or altered in any way and have not been compensated for.More will be added, as they become available.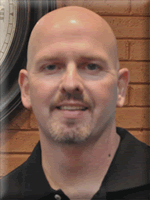 My name is Richard Hepler and I have been a client of Kris' for about four and a half months. At my first visit to Kris, I was totally defeated by my weight. At 5'9", and 325 lbs., it felt like I was letting life pass me by. I arrived at my first session with Kris loaded with self-imposed limitations and a list of things I wasn't capable of doing. From our first session, Kris has challenged those limitations and has pushed me more than I ever thought I could handle. The amazing thing is that as I have begun to realize that I am capable of much more in the gym, that same change in outlook is happening in so many other areas of my life. I've still got a long way to go, but so far have lost over 60 lbs, 12" in my waist, and reduced my body fat by over 12%. I also have a very erratic work schedule, and Kris has been very flexible and willing to accomodate changes that occur. Regardless of whether you are a veteran of working with a trainer, or someone like me, who wondered if they could do this or not, I highly recommend Kris.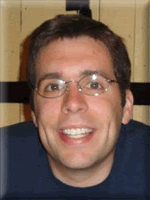 My name is Michael Cumby and eight years ago I started exercising. Over the past eight years, I have worked out in multiple gyms and with many different personal trainers. Throughout this experience, I can honestly say that Kris is the best personal trainer I have worked with. The past three years have been somewhat flat for me, as I have not seen much by way of strength and stamina gains. However, since starting a workout plan with Kris two months ago, my results have been astounding! Working out is fun again, and I am seeing results. Kris has a way of taking you to the limit of your abilities, and then pushing you further than you thought you could go. I have only been with Kris for two months, and I have lost 5% body fat and two notches on my belt buckle! Furthermore, what stands out the most to me is how efficient the workouts are. On my lifting days, I now spend less time in the gym but am seeing more gains. If you want to get in the best shape you can be in, start working out with Kris, and enjoy how great the results feel!"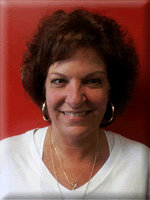 As I am in the midst of the middle age stage of my life, many things have been changing. My body, personal and professional life, my self esteem and attitude were going in a direction I was not familiar with. I always struggled with weight and as a yo-yo dieter, I found myself at an all-time low in accomplishments. Thanks first off to Ricky ( the ace photographer shown below), I met Kris in December 2010 and began a workout program not like anything I was willing to commit to before. As of today, my mood and outlook are at an all-time high. Kris has helped me embrace exercise for a healthier and happier way of life. His encouragement, persistence, and constant reinforcement have turned things around for me. After 7 months, with his guidance, expertise, knowledge and patience too, I have been able to omit 3 different prescription medications from my life including cholesterol lowering drugs and sleep aids. I am making better food choices and my weight is finally going in the right direction without any gimmicks or fad diets. I actually feel good about my life, maybe even my age, and I cannot imagine a life without Kris. He has become like a family member to me and I thank him with all my heart for his commitment to his work ethic and how he impacts others.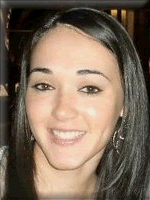 The gym has been a part of my life for the past 4 years. In the beginning I saw good results, but as time passed I noticed my body hit a plateau, and working out became very routine and even a little boring. I was having the same workout routines day after day and wasn't noticing any further changes. As soon as I started working out with Kris I was introduced to a whole new world of exercise! Everyday is a new routine! My body never knows what to expect! Even the weights I use. I never imagined I'd be able to lift as much as I do now. Kris has enabled me to do more in these past 5 months than I've been able to do alone in the last 4 years! He's awesome at motivating you reach your goals and doesn't allow any room for failure.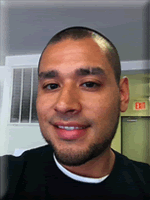 Hello! My name is Sal. I have been training with Kris since December 2010, and let me tell you I have progressed after every workout. I started at 194lb and I am now 170lb. Not only have I noticed my jeans fitting better, but I feel so much more confident. I am still working on gaining a bit more muscle, but I know that it will come with time and dedication. Kris is the type of trainer that works well with just about anyone's schedule.I plan to keep working out with him until I reach my goals. For anyone looking for a professional and friendly trainer, Kris is the trainer for you.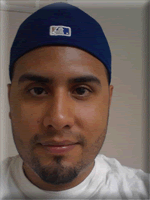 Me and my brother have been working out with Kris since about December 2010. This is one thing I honestly do not regret one bit! It is barely the first week of March 2011 and we both have already lost over 20 lbs a piece an counting! And have gained a lot of muscle. He motivates and pushes you way further than what you think is possible. Just when you want to give up...there he is pushing you and helping you finish. He is a great friend and I can truly tell anyone... that this is the trainer to have. Our plan was to work out a couple of months and that was it but now, thanks to Kris.... we're hooked with the results and can't stop.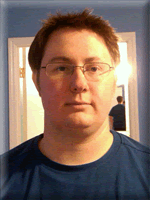 I began training with Kris after seeing my weight reach epic proportions, over the 300lb. mark. Kris was very friendly and informative about the different methods of training that we could use to reduce my weigh and body fat. He was a well of knowledge, something you don't find at many gyms today. He has constantly pushed me to improve and with his guidance on excercising, fitness, and nutrition; I have been able to surpass even my own wildest dreams of weight loss. If you want someone who knows what they are doing and how to get you to your goals, Kris is the trainer for you!

In the interest of full discloure, this is not a testimonial, but an update on Rickey's progress and a recognition of his exceptional determination, drive and dedication to the goals we set, the hard choices he has made and the effort he has put forth at the gym. On December 10.2010 we reached our goal of 185 lbs, a loss of over 115 lbs over a span of 9 months.Well done, Rickey!
Now I guess we need to work on your camera handling skills.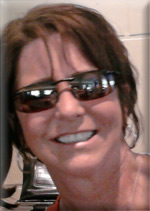 Hello! My name is Sherri.  I am writing today regarding Kris with MaxFit. I have suffered from an eating disorder for many years, as well as other health problems that caused me to lose quite a bit of weight over a long period of time. I was badly skinny with no tone to my body.  Kris is the only trainer who could ever come up with a plan suited just for ME that works! Kris took me under his wing and has been serving as my personal trainer for 18 months. Kris works me hard and now I have the body that I always wanted and people don't look at me as though I am sickly.  They look at me as though I'm a healthy, fit, toned woman. Kris' efforts have proved well, well worth it and the results are amazing – and in the process I gained a true friend! I will always appreciate Kris for all he has done to get me where I am today.  Thanks as always for pushing my butt these many long months and months to come.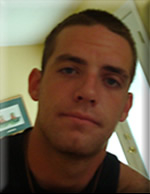 Not only is Kris an awsome trainer, he is a good friend, someone you don't have to feel like is there just for your money.He has always been able to work around my crazy work schedule and continues to push me to do better, even if it is difficult at times. Seeing the results makes it all worth it!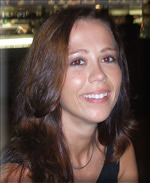 I'm the kind of female that needs to be inspired to work out.  This doesn't mean that I don't like it, I enjoy it very much so, but having someone knowledgeable, fun and who knows how to get me the most out of my workout is what gets me going.  Being overweight majority of my life, it was time to change.  Training with Kris was one of the best choices I have made.  Kris was not only knowledgeable and direct with his approach; he often pushed me beyond what I thought my capabilities were.  Professionalism, knowledge, punctuality, and attention to detail, Kris has it all.   No matter how I feel when I enter the gym, I always have a great workout and leave feeling great.  Kris has helped me lose body fat, be more powerful, tone and improve my general physical fitness. He is an amazing trainer, motivator and friend who has helped me more than words can describe.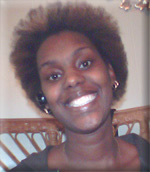 My name is Shatika Chavis. I've been working out with Kris since September 2006. Don't get me wrong, Kris is great at what he does, but trust me, we have our moments. I want the results without the work but he never lets me take short cuts. I'd been working out on my own for about seven months and I was looking to take it to the next level and needed some outside help. I started observing the trainers with their clients. I wasn't impressed. I started talking to some people at the gym about the personal trainers, some were way too high, some didn't know what they were talking about, some wanted me to be the ideal weight in a book written before I was born, others couldn't train me if their services were free. I met Kris one Friday while some friends and I were doing abs as he gave us some pointers and again, I jumped to conclusions. Who does this guy think he is? As I listened, I was lost at first, cause he was speaking by the book, I was amazed to say the least he really knows his stuff. I watched him for a couple of days and set up a meeting with him for the next week. He asked me where I wanted to be, then set a program just for me, not just what works for the masses. He is very detailed and writes everything down and doesn't just go off memory. Just the other day another trainer was beside us, as I was doing legs the trainer asked: "Is she going to lift all that?" I wouldn't admit it to Kris, but I was smiling inside. We still have a ways to go, but I have already come so far, hey, I'm lifting "guy weights". A special note to Kris, I know, I am not the easiest person to get along with, but thank you for everything. I.E. the new words we learn and make up along the way, for being a counselor, a friend, a brother, a trainer :)